May 20, 2014
CEO of Topsoe appointed Honorary Doctor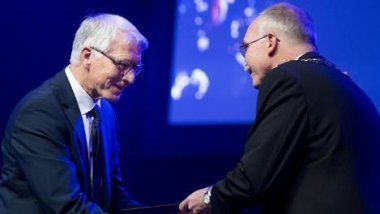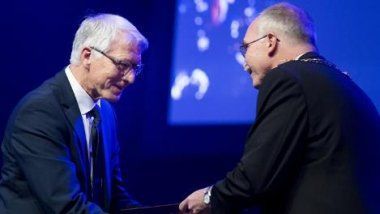 On Friday May 9, Bjerne S. Clausen, CEO of Haldor Topsoe A/S, was appointed Honorary Doctor at the Technical University of Denmark's (DTU) traditional Annual Commemoration Day.

Bjerne S. Clausen received the prestigious title in recognition of his excellent research with particular emphasis on in situ characterization of the importance of nanoparticles to industrial heterogeneous catalysis.

In his nomination speech, Professor and Head of DTU's Chemical Engineering department, Kim Dam-Johansen, said that "Bjerne Steffen Clausen is a remarkable engineer who in exemplary fashion has combined fundamental research with technological and commercial development at the highest level imaginable. Having completed his PhD at DTU, and following a productive period at the best chemical engineering departments in the United States, Bjerne began his professional career as a researcher at Topsoe. As a researcher, he has generated fundamental scientific and technical knowledge that has been published in leading journals, and he has received recognition from colleagues in the form of numerous citations—with an impressive Hirsch index score of 56."

The professor furthermore emphasized how Bjerne S. Clausen has maintained a close and mutually beneficial cooperation with DTU Chemical Engineering even after being appointed CEO at Topsoe.

The title was awarded to Bjerne S. Clausen in front of an audience consisting of professors, students, teachers, and the Minister of Higher Education.

Since 1921, DTU has been conferring the degree of Doctor Technices honoris causa to individuals who fulfill the requirements for obtaining the Doctor Technices degree and have made an important contribution to DTU.

The Honorary Doctorates have been awarded at DTU's Annual Commemoration Day since 2000.
Subscribe to our blog updates