May 25, 2014
Topsoe named winner of the 2014 World XTL award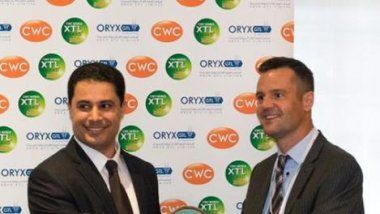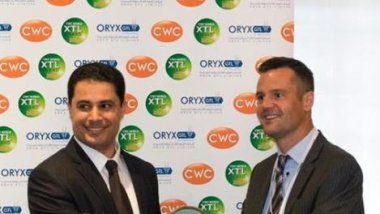 During the World XTL 2014 summit, which was recently held in London, Haldor Topsoe A/S was announced as winner of the 2014 World XTL award at a gala dinner hosted by Oryx GTL. The award is given annually to a company that has made an outstanding contribution to the XTL industry. This year's list of nominated companies included names such as Shell, Sasol North America and Primus Green Energy.

The award was handed over to Peter Vang Christensen, Vice President in Topsoe's Chemical Business Unit by Mohamed Farhan Al-Enazi from Oryx GTL in Qatar, who gave the following motivation for choosing Topsoe.

"The XTL industry would not be where it is today without the commitment and technology break-throughs from Haldor Topsoe on autothermal reforming technology. Most of the gas-to-liquid capacity globally uses Haldor Topsoe's autothermal reforming technology and the industry is looking at Haldor Topsoe for future step changes in the development of the technology, which will make the overall XTL industry more competitive against other alternative industries".

Speaking on behalf of Topsoe, Peter Vang Christensen extended his thanks for the award and emphasized that it means a lot for the company to receive the recognition that lies behind it.
"Being a technology oriented company, we have worked hard and dedicated for years to continuously improve our autothermal reforming technology. This means pushing the limits of what is possible to drive down the capital cost and operating cost of the plants. Receiving recognition that our technology is instrumental in keeping our customers competitive is highly satisfactory and will keep us focused and motivated to continue improving the technology and the value it creates", says Peter Vang Christensen.

World XTL 2014 summit is a conference that is aimed at developers as well as technology and service providers to discuss the prospects and benefits of using XTL (converting gas, coal and biomass to liquid fuels) as a way to monetize assets.

Topsoe plays a key role in this context due to the company's autothermal reforming technology which converts natural gas into valuable synthesis gas. This synthesis gas is then further synthesized into liquid products such as methanol and synthetic fuels. Examples of plants using Topsoe's autothermal reforming technology include Oryx's GTL plant in Qatar producing 34,000 barrels per day of synthetic fuel as well as Ar Razi's methanol plant in Saudi Arabia producing 5,000 metric tons per day of methanol.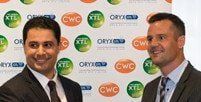 Mohammed Farhan Al-Enazi from Oryx presenting the 2014 World XLT award to Haldor Topsoe representative, Peter Vang Christensen.
Subscribe to our blog updates