November 27, 2014
Topsoe wins the Danish Engineering Product Award 2014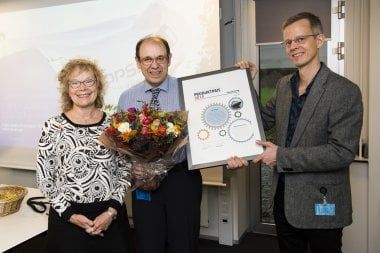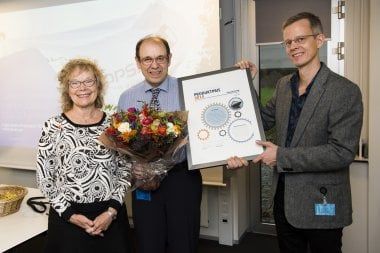 Haldor Topsøe A/S has won the Danish Engineering Product Award 2014 (in Danish Ingeniørens Produktpris 2014) for its new ECO-Jet solution. The product is a newly developed catalytic process capable of reducing emission of harmful substances such as soot, hydrocarbons and heavy metals from ships powered by bunker fuel, also known as fuel oil.
The prestigious award, presented annually by the Danish technical journal Engineering Weekly (in Danish Ingeniøren), honors technological products with significant news value based on substantial technical expertise. Engineering Weekly has awarded the prize for the past 15 years announcing five winners in different categories and a main award, which is presented to Topsoe in 2014.
"When they put out to sea, large ships using bunker fuel emit harmful black smoke, and this smoke represents a major source of air pollution locally and globally. With Topsoe's new process, we have an operational technology in place that is able to reduce emissions of soot and heavy metals. The process has interesting, environmental perspectives and, for Topsoe, promising commercial perspectives as well," Professor Lene Lange, chairperson of the Engineering Weekly awards committee, said at the award ceremony.
Cleans bunker fuel of flue gases Topsoe's new catalytic process, called ECO-Jet, was developed over a number of years in cooperation with an Italian partner, EcoSpray. The process reduces up to 95% of soot emission from ships using bunker fuel and is the first ever of its kind. The ECO-Jet process also removes other harmful substances from the exhaust of engines using bunker fuel, for instance poisonous hydrocarbons and metals including vanadium, iron, nickel, silicon and sodium. The solution can be combined with a so-called scrubber process to remove sulfur from flue gases.
This is highly relevant as bunker fuel may contain as much as 3.5 per cent sulfur.
Technology opens up new possibilities
According to Topsoe Senior Scientist Keld Johansen, ships could sail on environmentally friendly marine fuel with a sulfur content less than 0.1%. The problem is, however, that such conversion is still much too expensive:
"For many years now, the ship industry has discussed using environmentally friendly fuel. The problem is, however, that the global refinery capacity is still too small to replace bunker fuel. That is why we have to treat the exhaust from bunker fuel in another way. And with our catalytic process, this is feasible now," he says.
Topsoe's new emission process is the result of several pilot projects. The largest pilot was the huge cruise ship MS Queen Victoria accommodating more than 2,000 passengers. The ECO-Jet process was tested here with promising results under tough, real-life conditions.
Particle pollution on land and sea Emissions from diesel engines – including soot and NOx – are well-known contributors to serious lung diseases and local smog generation in big cities all over the world. The problem is basically manageable on land since it is possible to switch to eco-friendly diesel with a low content of sulfur and at the same time minimize harmful emissions using a catalytic system installed in the exhaust systems of diesel trucks and buses. This applies to the United States and Europe and increasingly to other parts of the world such as China and Latin America. "Unfortunately, at sea and in port areas where large ships are mooring, the situation is different. So far, authorities have refrained from introducing requirements on particle emission, among other reasons, because it has been a major technological challenge to develop efficient systems that can handle the flue gases from heavy fuel oil. With ECO-Jet, we have proven that technology is no longer an obstacle," Keld Johansen concludes.
Subscribe to our blog updates