April 9, 2015
Celebrating 75 years of excellence in catalysis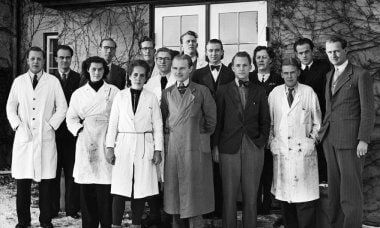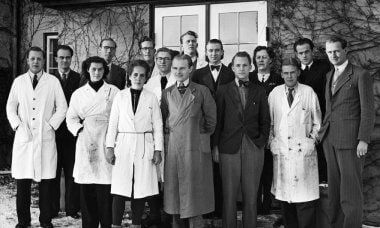 Today, 75 years ago a young Danish physicist named Haldor Topsøe established a new company based on catalysis. In 1940, catalysis was a little-used chemical process, but Haldor Topsøe believed that one day it could serve a huge, unmet industrial need and at the same time provide important benefits to society. This idea turned out to be prophetic considering the huge importance of catalysis of today.
In 1944, only four years after the company was founded, it delivered its first product to customers, making it possible to use catalysis to speed up the production of sulfuric acid. This product – the first of what would become Topsoe's series of VK catalysts – was brought to life by combining fundamental scientific research results in catalysis with the concrete needs of industry to develop highly useful products.
Since 1940 the world has changed immensely, but the vision upon which Haldor founded his company – to tap the potential of catalysis and scientific results and apply this to industry – still stands and remains the backbone of the company. Catalysis has become an indispensable part of modern industry. In fact, it is now involved in 90% of all commercially produced products. Catalysis can make expensive processes cheaper, help feed the hungry, turn worthless waste into valuable commodities, and even clean the air we breathe.
Today, Haldor Topsoe delivers a wide range of catalysts and process technology that is essential for producing clean fuels from crude oil and waste, removing harmful emissions from power plants and vehicle exhaust, and raising the efficiency of industrial processes. Haldor Topsoe's catalysts are used in the production of 50% of the world's fertilizers, helping the agriculture industry meet the global demand for food. The company's catalysts, technologies and plant design lie at the heart of the efficient, sustainable production of plastics, fuels, and fertilizers worldwide.
All Haldor Topsoe's catalysts are manufactured in Frederikssund, Denmark, or Houston, USA. New production facilities are due to open in China and Brazil later this year. In 2014, Haldor Topsoe's total revenue reached DKK 5,685, while the company realized an operating profit of DKK 563 million. By the end 2014 Haldor Topsoe employed 2,737 with representative offices in 10 countries around the world.
Haldor Topsoe remains a privately held company 100% owned by the second and third generation of the Topsøe family. The family is committed to maintaining the ownership of the company in the family, and to the continued support of the company's growth strategy as well as the continued development of the company in the spirit of its founder, who passed away in 2013, only days away from celebrating his 100th birthday.
Subscribe to our blog updates