January 31, 2016
Topsoe establishes R&D Center at Dalian Institute for Chemical Physics, China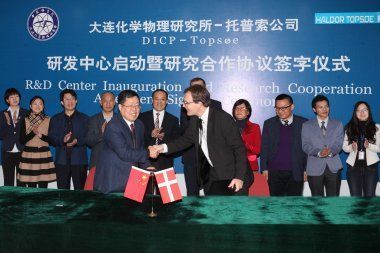 Topsoe will select and fund R&D projects at Dalian Institute for Chemical Physics – China's leading catalysis research institute and the world's largest catalysis R&D center.
A number of research projects have already been initiated within Topsoe's business areas.
Topsoe expects to strengthen the company's market and technology access in China through strategic R&D partnerships.
A newly established Topsoe R&D subsidiary – Haldor Topsoe Science & Technology (Dalian) Co. Ltd. – has entered a comprehensive collaboration agreement with Dalian Institute for Chemical Physics (DICP). This was celebrated at a ceremony Wednesday, January 27, 2016 at DICP. Under the framework of this collaboration agreement Topsoe will select and fund relevant projects at DICP, and DICP researchers will perform the research on contract for Topsoe. DICP is the leading Chinese catalysis research institute and the world's largest catalysis R&D center. The R&D center is Topsoe's first outside Denmark.
"The relationship between DICP and Topsoe can be traced back to the early 80s, when Topsoe was one of the pioneering foreign companies coming to China. Our relation has grown stronger in the past few years, and we are delighted to be able to lift this long-term relationship to a new level through this formalized partnership. Topsoe is an important player in the commercial application of catalysis and has also contributed very significantly in the R&D field. We look forward to joining forces to make new advances within catalysis," says Professor Can Li, Director of Dalian National Laboratory for Clean Energy at DICP.
"The new R&D Center in China will enable us to establish R&D alliances with Chinese business partners and research institutes. Investments in catalysis research in China are huge and the scientific level is high, so R&D partnerships will have significant importance to our future success in China, both scientifically and commercially," says Jesper Nerlov, Chief Technology Officer, Topsoe.
"A number of selected R&D projects have been kicked off today at the opening ceremony. These projects are within Topsoe's main business areas Chemicals, Refinery and New Business," says Fei Chen, Vice President for New Business R&D, Topsoe.
The R&D center is a significant expansion of Topsoe's engagement in China, where the company already has a regional office in Beijing as well as a newly built catalytic converter plant in Tianjin.
Subscribe to our blog updates