August 1, 2017
Make the most of what you have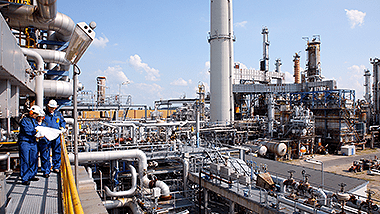 Feed stream management
In the not-so distant past, crude oil prices were hitting records everyday worldwide as downstream operators saw their margins decrease.
Some refineries in Europe were forced to shut down. Others were acquired by companies with highly developed upstream operations. Those refineries that survived implemented operational optimization programs in a search for "quick wins" and wise capital investment decisions.

Among other processes, middle distillate hydroprocessing units became the target for improvements.

Today, the industry is abuzz with talk about a possible uplift in margins that will be driven by the new MARPOL regulations.

Unlock your potential
As a world leader in hydroprocessing catalyst and technology, Topsoe is positioned to help refineries address this emerging challenge by unlocking their full competitive potential.

Our solutions will help you optimize feed pool management for hydroprocessing. Given the implications of tougher bunker fuel legislation, our detailed knowledge of oil treatment and associated hydrogen and sulfur issues become particularly relevant. We work along with our customers' LP and finance departments to make sure that process adjustments lead to financial performance improvements.


Let's help you meet MARPOL 2020 requirements
You need a robust plan for successfully competing in today's volatile market. The best plans start with an initial study and evaluation of your stream management potential. In the face of new regulations, some of the questions you may want to explore include:


How can you meet MARPOL specifications and keep diesel hydrotreaters profitable?
How can you contend with the changing feedstock slate and increasingly stringent environmental standards?
How can refineries balance heavy oil, hydrogen and sulfur treatment?
Which low sulfur stream should you use for blending?
How to balance ULSD production with MARPOL specifications?
To learn more, let's talk. We're here to help.
Watch a Haldor Topsoe Talk on MARPOL:
Subscribe to our blog updates