November 28, 2013
Henrik Topsøe wins EY Entrepreneur Of The Year 2013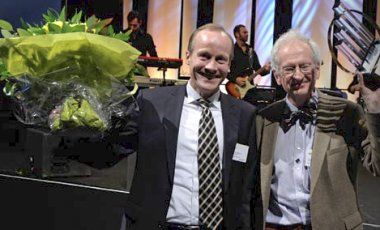 On Thursday November 28, Chairman of the Board, Henrik Topsøe, was named EY Entrepreneur Of The Year 2013 at an event held by Ernst Young. According to the jury, the competition was extremely tough. "During my time as Head of the Jury, we have never before experienced a competition with such strong players," says Christian Frigast, Head of the Jury.
Henrik Topsøe was named the winner based on his ability to maintain, protect, and integrate the legacy and spirit of his late father, Haldor Topsøe, in the company, while simultaneously creating growth and breathing new life into a company in which he grew up.

While very honored by the acknowledgment of being named Entrepreneur Of The Year 2013, Henrik Topsøe stresses that the prize is a result of the dedication and hard work of all Haldor Topsøe employees - and he is therefore pleased to accept the honor on behalf of the company. "It is a great honor, and on behalf of the company I am very proud," says Henrik Topsøe.
According to the partner of the event, The Danish Chamber Of Commerce, it has been a pleasure to experience the weight and quality of the businesses in this year's competition.

"We need companies that have the ability to reinvent themselves and contribute to the innovation in Denmark – but also companies that manage to get the attention from the rest of the world because of their groundbreaking technologies. Haldor Topsoe is a company that has been through a great continuous development, and that is still one of the leading players in its field. It is not always a given thing that companies will have the ability to last for several generations. That is why it is so important that Denmark continues being a country that focuses on research and innovation, in order for new ideas to blossom into strong business concepts that can create growth in Denmark," says Ulla Brandt, Senior Consultant at The Danish Chamber Of Commerce.

Being the EY Entrepreneur Of The Year 2013, Henrik Topsøe will be representing Denmark at the unofficial world championship of growth – EY World Entrepreneur Of The Year – in Monaco next year.

A leader in globalization

Haldor Topsoe A/S was also named the winner in the globalization-category, because of its world-leading position within the field of high-technology catalysts, and the technology that optimizes the processes during usage.

The Globalization Prize honors businesses in growth that manage to recognize the possibilities of the global markets - and that thereby not only create success for themselves, but also function as a beacon leading the way across national borders for other Danish businesses.

"Denmark is very dependent on the companies that dare go global, and Haldor Topsoe A/S poses a great example," says Carsten Collin, Partner and Director of EY Entrepreneur Of The Year.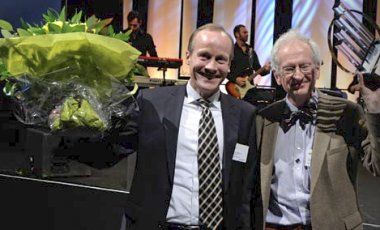 CFO Peter Rønnest Andersen and Haldor Topsøe's eldest son, Flemming Topsøe, received the prizes.

Subscribe to our blog updates