August 1, 2017
Deal efficiently with soot from heavy fuel oil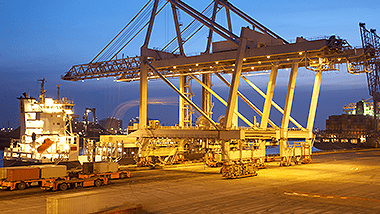 Soot and particulate removal
Shipping, unlike land-based transportation, has not been subject to strict environmental regulations. It isn't simply a question of whether or not companies were prepared to pay for technology improvements to reduce emissions. In fact, the technology was simply not available.
Things are about to change
Ships using heavy fuel oil (HFO) emit harmful black emissions of particulate matter (PM), including soot and NOx. These are known to cause severe health hazards and contribute to global warming.

Unfortunately, without operational technology, removing particulate pollutants was technically infeasible. This has now changed.

Sail ahead with HFO with ultra-low emissions
Topsoe and our Italian partner Ecospray have launched a groundbreaking PM/soot filtration process technology that tackles this problem. One combined unit significantly reduces all harmful emissions from marine vessels.

The technology houses our patented BMC-101 catalyzed filter coating that passively combusts soot trapped in the filter at 350°C – 420°C together with the frequent reverse flow of formed metal sulfate ash. Once installed aboard ships using HFO, the process eliminates up to 95% of soot emissions, along with poisonous hydrocarbons (PAHs) and a wide range of heavy metals including vanadium, iron, nickel, silicon and sodium.

Synergy with scrubbers
Removal of soot and heavy metal ash from a marine engine using HFO has a significant synergy with the SOx scrubber, as it can be operated in open flow mode. Soot, PAHs and heavy metals are removed upstream from the scrubber in compliance with IMO regulations. A full marine exhaust system is shown in the illustration below.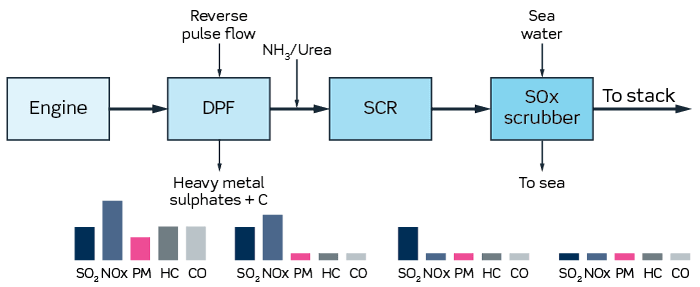 Proven seaworthy
The technology has been installed on a new-build cruise ship, the AIDA Prima, since June 2016. The ship is partly fueled with HFO and partly with marine diesel oil and has a two 4-stroke 12 MW diesel electric engine.

Profit from our experience
To find out whether or not our patented PM & soot filtration process technologies are right for your company. We could start by exploring:
Soot and NOx removal together with scrubbers
Possibilities for soot removal in and around harbors
Retrofit design in existing ships
Let's talk about your expectations for efficient soot and particulate removal.
Subscribe to our blog updates