April 20, 2015
Topsoe and Unifrax establish partnership to market improved ceramic catalytic filters to the industrial market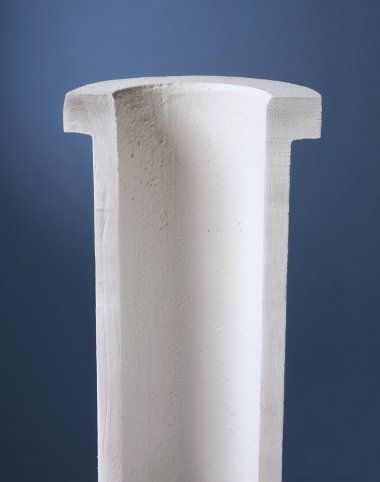 Unifrax I LLC ("Unifrax"), the Tonawanda, New York based manufacturer of specialty fiber products, and Haldor Topsoe A/S, a world leader in catalysis and related process technologies headquartered in Denmark, today announced the signing of a partnership agreement. The partnership marks the beginning of a joint global effort by the two parties to commercialize an innovative new line of catalytic filter candles. This new product family will be marketed as TopFrax™ filters and was developed for catalytic hot gas filtration in the industrial market.
The partnership combines the expertise and knowhow of Topsoe's leading position within catalysis and Unifrax' strengths within fiber filter manufacturing and filtration. The TopFrax™ technology offers improved catalytic filters to the global market, providing high quality, well-engineered products and technical support to customers in a broad range of industries such as glass, cement, bio mass, waste incineration and metal production.
Global regulations have reduced the permissible levels of particulate and hazardous gas emissions, making compliance costly and requiring companies to make substantial investments in pollution control technologies. Haldor Topsoe and Unifrax have worked closely to develop a unique technology that addresses the problems related to industrial emissions. TopFrax™ catalytic filter candle is designed to remove NOx and particulate matter, and will also be launched in a version capable of removing VOC, CO and dioxin that are generated in many industrial processes.
Key features of these filters include: high efficiency filtration of particulate matter (+99%), NOx removal efficiency (+95%), low ammonia slip, and filter porosity above 80%. TopFrax™ filters have a temperature use limit of 400°C (750°F), are compatible with sorbents, non-combustible, and corrosion resistant. These innovative, high quality candle filters give equipment builders and customers a unique technology combining the removal of NOx, VOC, CO, dioxin and particulate matter in one integrated process. Designing pollution control equipment around TopFrax™ hot gas filters saves CAPEX and OPEX and reduces the footprint of the installation while providing extended service life and energy savings.
"The TopFrax™ product line is the first in the world to introduce a combined process for removal of NOx, VOC, CO, dioxin and particulate matter enabling customers to meet increasingly stringent regulations in a cost effective way. The partnership offers exciting possibilities for both parties, not only in terms marketing the new catalytic candle filters, but also in developing other products together in the future," says Bjerne S. Clausen, CEO of Haldor Topsoe A/S.
David E. Brooks, Unifrax President & CEO comments: "Unifrax is proud to partner with Haldor Topsoe, a world leader in developing catalysts to solve a range of emission control problems. The commercialization of TopFrax™ filter candles is in alignment with our company mission of helping customers reduce emissions and save energy. The partnership will help both companies better serve the customer by providing access to a complete hot gas filter portfolio and extensive product support worldwide."

Press contacts:
Unifrax I LLC
Virginia Cantara
Manager, Marketing Communications
Tel: (716) 768-6295
vcantara@unifrax.com

Haldor Topsoe A/S
Kristine Ahrensbach, VP
Corporate Communications & Marketing
Tel.: +4525529547
About Unifrax
Unifrax I LLC is a leading global supplier of specialty fiber products that are used in many high-temperature industrial, automotive and fire protection applications where they save energy, reduce pollution, and improve fire safety. The Company has 26 manufacturing facilities in the United States, Europe, the Middle East, Russia, Asia, South Africa and Latin America and employs approximately 2,200 people worldwide. Additional information about Unifrax can be found at www.unifrax.com.
About Haldor Topsoe
Haldor Topsoe A/S is a privately held company focused on catalysis and related process technologies. The company employs 2800 and has sales representations and production facilities around the world. In 2014, the company had a revenue of DKK 5,685 million and achieved an operating profit (EBIT) result of DKK 563 million. Topsoe delivers a range of catalysts and process technologies that allows the global refining industry for example to optimize their performance and produce cleaner fuels. Moreover, the company's technologies are used to clean industry flue gasses and remove harmful substances from the engine exhaust from heavy diesel vehicles. In the chemical sector, Topsoe also has a leading position worldwide in areas such as synthesis gas, hydrogen, ammonia and methanol. In the ammonia industry, for example, Haldor Topsoe is a leading global supplier having supplied more than 50% of all new plants built within the last decade. More information can be found at www.topsoe.com.
Other posts you might be interested in
Subscribe to our blog updates