December 14, 2015
Haldor Topsoe A/S expands the board of directors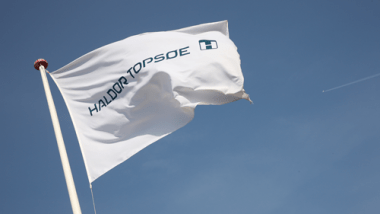 The two new members bring important experience from innovative and successful technology-driven companies that will support Topsoe's strategy and business development.
At an extraordinary general meeting today, Henrik Stiesdal and Anders Heine Jensen were elected for the board of directors of Haldor Topsoe A/S. This means that the board is expanded by two seats to twelve in total. The other board members remain the same.
"We're very pleased to welcome Henrik Stiesdal and Anders Heine Jensen to the board. We have been able to attract two very capable and experienced people, who understand the nature of the business we're in, especially the essential energy sector. Yet, they have also shown the ability to drive necessarychange and execute the business strategy. I'm sure that they will be a very positive addition to the board and I know that the entire board looks forward to working with Anders and Henrik," says Henrik Topsoe, chairman of the board of Haldor Topsoe A/S.
Henrik Stiesdal (born 1957) has played a major role in the development of the significant Danish wind power industry. In 1978, he co-designed one of the first wind turbines representing the so-called "Danish concept", which one year later was licensed to Vestas. After working as a consultant to Vestas, Mr. Stiesdal joined Bonus Energy (later Siemens Wind Power) where he became chief technology officer. He retired as CTO of Siemens Wind Power in 2014. Mr. Stiesdal was awarded the Poul la Cour Prize of the European Wind Energy Association in 2011. In 2014 he received the German Renewables Award for Lifetime Achievements in Wind Energy, and in 2015 he received the Wind Turbine Award from the Danish Wind Turbine Owners' Association. Siemens awarded Stiesdal as the Inventor of the Year in 2008 and as Top-Innovator in 2010. In 2012, the trade magazine Windpower Monthly declared Henrik Stiesdal as the second most influential person in the wind industry.
Anders Heine Jensen (born 1964) is CEO of Burmeister Wain Scandinavian Contractors A/S (BWSC), a global turnkey developer, contractor and operator of tailored medium to large-scale power plants. He has been a driving force in adding renewable and waste-to-energy technologies to the company's conventional diesel-fueled power plants. The strategy has been executed with considerable success, resulting in seven biomass-based power plants in Great Britain at a value of up to one billion kroner per piece. Mr. Jensen has gained considerable insight into the energy sector from his work in BWSC since 2008, and previous positions in DONG Energy, Maersk Oil and ABB. He is currently a board member of Danish Energy Industries Federation. Mr. Jensen holds a Master's degree in mechanical engineering from DTU (Technical University of Denmark) and a Bachelor's degree in economics & foreign trade from Copenhagen Business School.
Contact
Svend Ravn, media relations manager, Haldor Topsoe A/S
Phone: +45 22 75 43 58
Other posts you might be interested in
Subscribe to our blog updates