June 14, 2016
Official opening: 90 million dollar plant will improve air quality in China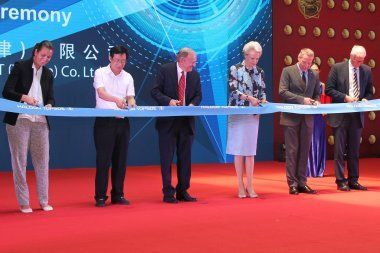 The Topsoe plant produces automotive catalysts that improves air quality significantly
"Shows our strong commitment to China and ambitious environmental goals," says Topsoe CEO
Official opening was carried out in the presence of Her Royal Highness Princess Benedikte of Denmark
Today, Haldor Topsoe, a world leader in catalysis, officially opened an advanced automotive catalysts plant in Tianjin Economic-Technological Development Area (TEDA) – a 600 million renminbi investment (more than 90 million US dollars).
"Topsoe is strongly committed to China, and it is no coincidence that this plant – our largest investment ever – is located here. China is an important growth market for us, and we believe that the production of our highly efficient automotive catalysts will be a relevant contribution to support the ambitious environmental goals in the thirteenth five-year plan," says Bjerne S. Clausen, CEO of Haldor Topsoe.
The plant produces advanced catalysts that clean the exhaust from heavy duty diesel engines in trucks, buses and other vehicles. Basic components of smog as well as hazardous soot particles are removed, which improves air quality significantly.
The plant is equipped with state-of-the-art production equipment, including robots. Safety is a focal point for Topsoe so machines have the highest safety standards and there are strict rules for the use of protective equipment and handling of chemicals.
The official opening was carried out in the presence of Her Royal Highness Princess Benedikte of Denmark as part of her visit to China. At the opening ceremony the Royal Danish Ballet performed a piece from the ballet 'Napoli' contrasted by a traditional Chinese lion dance.
Strong commitment to China
Topsoe has done business in China as far back as the 70s and in 1984 the company established an office in Beijing. Topsoe has longstanding relations with several design institutes and scientific organizations in China and recently entered into its first commercial research collaboration outside Denmark with the renowned Dalian Institute for Chemical Physics (DICP). Today, Topsoe employs 170 people in China.
Topsoe's strong commitment to China environmental progress involves a wide range of solutions besides catalysts for heavy diesel engines. The company offers products that clean off-gases from power plants and industry, enable refineries to make cleaner fuels, and support better use of coal.
The company also provides sustainable solutions within renewable fuels from biomass or waste and battery materials.
Other posts you might be interested in
Subscribe to our blog updates