AVIATION FOR A GREENER PLANET
Few would consider aviation as green: even fewer that it could hit Net Zero. But both established and emerging technologies are mapping a different future. Watch out for SAF.
TECHNOLOGY CONNECTS OUR WORLD
Laptops, phones, and the internet let us communicate across borders - low-cost and friction-free. But you can't email a handshake or videoconference a hug.

PASSENGERS REBOUNDING …
The urge to "be there" – to interact face-to-face, be it a million-dollar meeting or a week on the beach – led to Revenue Passenger Kilometers (RPK) growing sevenfold between 1960 and 20187. Post-pandemic RPKs reached 500bn a month8 by mid-2022; demand for jet fuel is set to rise by 50% come 2050. For many countries, that's the target year for Net Zero.

And while freight is a factor, most growth is driven by people. The average global citizen flew once every 22 months9 on a global fleet of over 25,000 passenger aircraft, over 10,000 airborne at any moment. 2019 saw 38.9m flights. Individual airlines come and go – but the desire to travel is eternal.

… BUT THE PLANET PAYS A PRICE
The downside: for energy-intensive consumer behavior, air travel tops the list. The world's appetite for jet fuel peaked at two billion barrels in 2019; the USA consumes over a million of them a day10. Of 50bn tonnes of CO2 equivalents emitted annually, aviation is responsible for around one billion, at 1.9% against 16.2% for transport as a whole11. And it's deeply unbalanced: just 1% of the world's population is responsible for 50% of industry emissions12.

GLOBAL GHG EMISSIONS BY SECTOR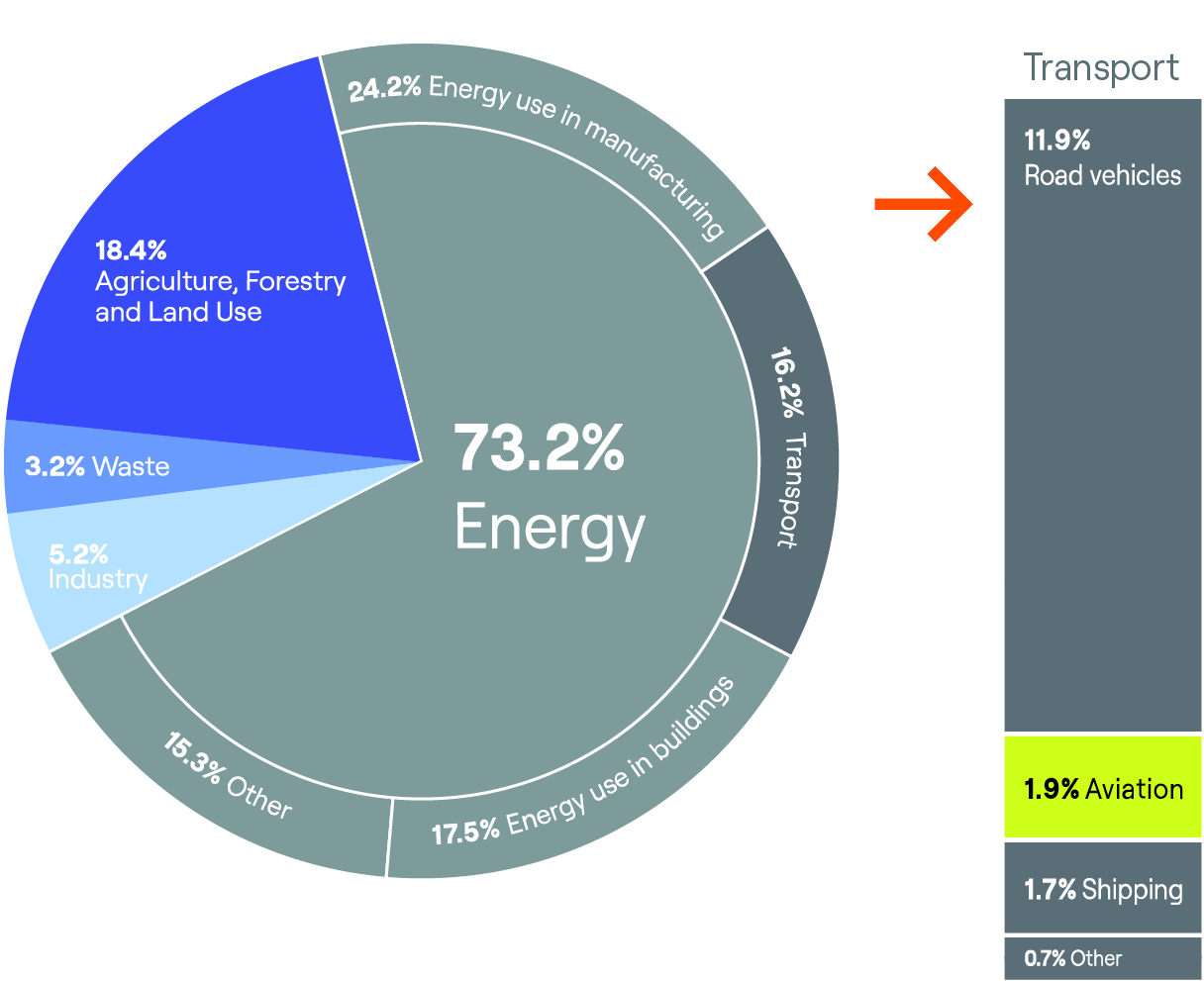 Source: Climate Watch, the World Resources Institute. Licensed under CC-BY13.
Of course, 1.9% is a far slimmer slice than manufacturing or agriculture, at 24.2% and 18.4% respectively. And efficiency gains in aviation have been dramatic: in 1950 a single RPK emitted 2.5kg of CO2eq against just 90g today14, with an improvement of 10%+ in just the last decade.
But we can go much further. The biggest shift of all is on the way: truly sustainable aviation, with net emissions of zero.

SUSTAINABLE SKIES: THE EMERGENCE OF SAF
The Paris Agreement aims to limit global temperature rise to 1.5°C by 2050. It's uncertain whether the world as a whole will get there. But the aviation sector can.
The key contributor of greenhouse gas (GHG) from aviation – fuel – can be sustainably sourced, refined, and used. Opening the way to a future where the whole economic cycle of jet fuel, from feedstock production to offset accounting, happens sustainably. In other words, aviation can deliver Net Zero – even Net negative. And that future is getting closer every day, with SAF: Sustainable Aviation Fuel.
THE BIG PICTURE
Air transport touches every part of our lives, from plane tickets that let us ride the skies to the cargo carriers that bring us goods from around the world. But true understanding of the market needs a big picture view. In this section, we combine data from industry sources with government data to form a summary of the SAF landscape, based on the interconnected areas of the PESTLE model: political and legal, economic, social, environmental, and technological, with the sixth part of the PESTLE model – the legal side – explored further in Section 6.